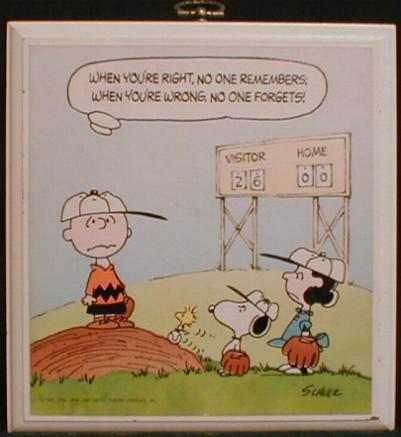 (From
What a Character website
)
When you're right, no one remembers
When you're wrong, no one forgets!
What a truth is for baseball games! Maybe for everything in our life

I am not a cartoon fan because I don't really get a chance to fall in love with. Because of all my sibling including me having shortsightedness, my mom doesn't allow us to watch too many cartoons when we were children.

Luckily, Charlie Brown and Snoopy is one of few cartoons I know because my old sister, jean, is so crazy about Snoopy. I always remember this picture and remind myself not to make these kind of mistakes. That's why I try to be positive and forgiving about everything or everyone in my life. I try to remember good things people have done instead of remembering bad or negative things all the time. Steal one line from Wang who said that in 2006 after a game which A-Rod had three errors behind him:"No one is perfect"

That's why sometimes I have problems with some comments from some Yankees fans. Of course, I am not perfect, but try my best for that. Great quote. Share with you guys. This picture probably will show up many times during season.

Why do I want to post this today? Today is the day Andy Pettitte is going to face media, everyone and Yankees fans. Let's Go Yankees! Let's Go Andy!